What started as supervising, consulting and being the bridge between producer/director and the studio in charge of the effects, became of me getting in charge of almost the whole post production when the studio no longer wanted to stay in the project.
There were roughly +140 shots that required VFX's, it was a monumental task for a single person, and while I did most of the heavy work, I had to open my own mini-studio to keep the project going with the quality and times agreed upon with the producer and director, at the end I only hired other 4 people.
While the job was already started and almost finished by the other studio, the quality wasn't good enough to everyone's eyes, which was why they sought my assistance in the first place.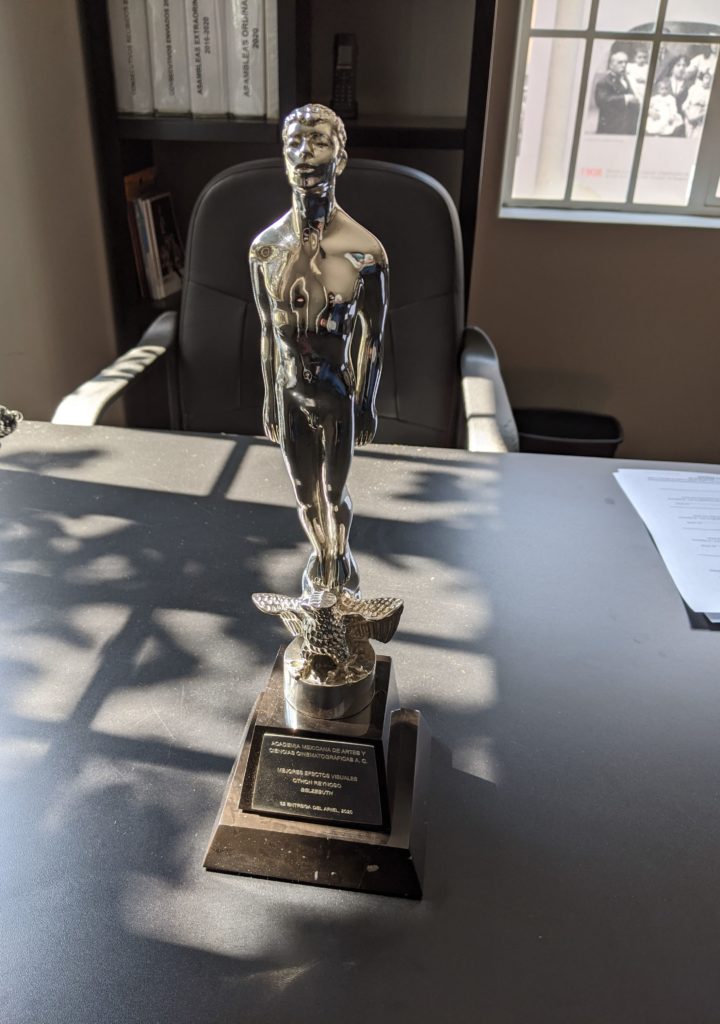 ---
2D & Comps
Most of the shots needed to have a bunch of flies in them that would have react to lighting conditions and actors movements.
I made the flies system in 2 parts, one set would be driven by particles and a semi-simple simulation inside of Nuke, while the other were completely hand animated by 2 other people, 1 of them made the path animation using cones and the other replaced the cones with 3d flies that reacted by approximation to other geometry.
I also supervised the development of other shots, like blood splatters.
---
Models & Textures
Most things were already modeled, but they had a lot of problems, either with topology, UVs, or mere textures. First task was to tackle those issues.
On the pleasing of the director and producer, I ended up making a whole lot of different versions of materials and textures.
---
Simulations
This is why they contacted in the first place, the breaking of the sculpture was already art directed and good, yet it wasn't very detailed, was incredibly slow and the Voronoi pattern was clearly visible even for untrained eyes.
I had to come up with a way to increase detail and optimize the simulation time while maintaining the work and art direction that was already done.
To the right is the effect they wanted to achieve, detail on each of the pieces, which i managed to create in Houdini before it was even part of the official release.
---
Crowds
Towards the climax of the movie there are several shots that needed a lot of Buthida Scorpions (which are a very common Mexican species, but way deadlier) to climb on one of the guys, obviously they weren't going to use real ones, so…